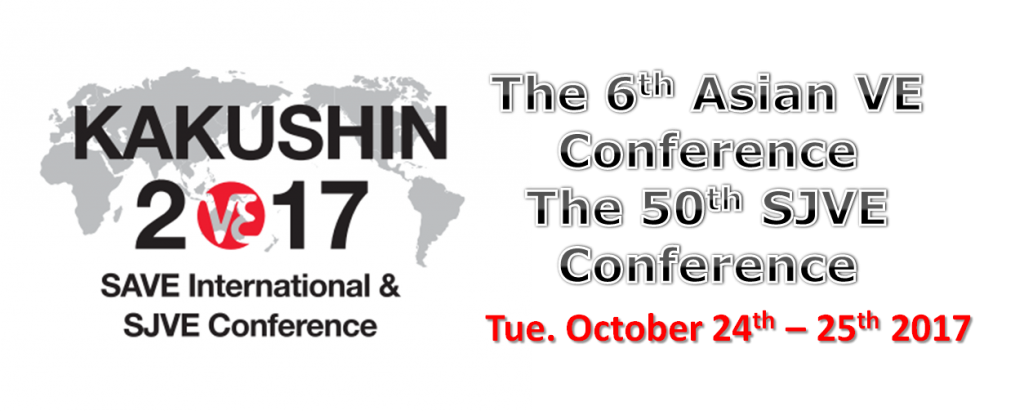 Sponsorship Program
"WE SUPPORT AND PROMOTE THE DEVELOPMENT OF VE"
Would you like to join in sending this message to the world?
In holding the 6th Asian VE Conference and the 50th SJVE Annual Conference on October 24th and 25th 2017 in Tokyo, we expect that the biggest number of VE professionals from all over the world would gather in this event.
We have prepared a wide range of sponsorship program to suit your needs for the purpose of promoting your company or business to the conference attendees.
Conference Overview
Dates: October 24th – 25th, 2017
Place: Arcadia Ichigaya, Tokyo
Organizer: Society of Japanese Value Engineering (SJVE)
Co-organizer: SAVE International
Expected attendees: 500 (100 people from overseas) attendees per day; VE managers and practitioners from Japanese leading companies in manufacturing, construction, and other sectors; public sector and local government.
Sponsorship categories available as follows:
Banquet sponsor: 1 company
USB drive sponsor: 1 company
Notebook sponsor: 1 company
Neck strap sponsor: 1 company
Networking lunch sponsor: 2 companies
Exhibit sponsor: 2 companies
Drink service sponsor: 2 companies
Support sponsor: unlimited
Due Date:  Monday, July 31st, 2017
Contac: Ms. Satoko Uesugi, Chief Overseas Liaison
Email. uesugi@sjve.org
Fast Facts
| | |
| --- | --- |
| | |
| Sponsor Board at 2016 SJVE Conference | Sample of Sponsorship Goods |
Trends of Conference Attendees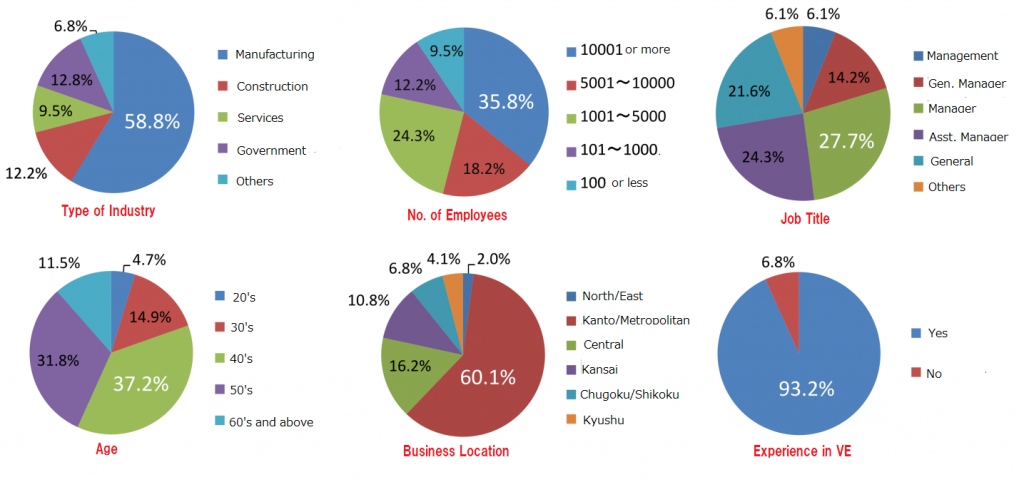 Sponsorship Program
Sponsor benefits
Banquet
USB
Notebook
Neck strap
Complimentary Registration
4 persons
2 persons
2 persons
2 persons
Presentation
During Networking Party (Day 1) and luncheons (Day 1 and 2)
✓
Logo Posting & Acknowledgement
At Asian VE Conference/SJVE Conference Official page on SJVE website
✓
✓
✓
✓
Logo Printing
On conference brochure and sponsor board
✓
✓
✓
✓
Company Ads Printing
USB, notebook and neck strap distributed to attendees at the registration desk
✓
✓
✓
Drink packets
Package of instant drink individual packets with company logo and ads offered during coffee breaks
Exhibit space
Exclusive space for company promotion in the foyer
Total Price
864,000 yen
388,800 yen
324,000 yen
302,400 yen
Sponsor benefits
Lunch
Exhibit
Drink
Support
Complimentary Registration
1 person
1 person
1 person
Presentation
During Networking Party (Day 1) and luncheons (Day 1 and 2)
✓
Logo Posting & Acknowledgement
At Asian VE Conference/SJVE Conference Official page on SJVE website
✓
✓
✓
✓
Logo Printing
On conference brochure and sponsor board
✓
✓
✓
✓
Company Ads Printing
USB, notebook and neck strap distributed to attendees at the registration desk
Drink packets
Package of instant drink individual packets with company logo and ads offered during coffee breaks
✓
Exhibit space
Exclusive space for company promotion in the foyer
✓
✓
Total Price
216,000 yen
162,000 yen
108,000 yen
54,000 yen