Explore a New Style of VE
Dates: October 23rd and 24th, October, 2018
Place: Arcadia Ichigaya (Tokyo)

Welcome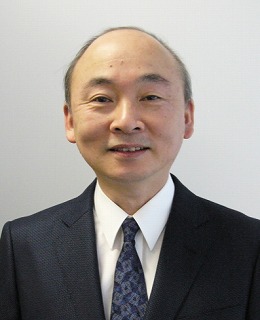 Mitsuaki Usuginu, CVS
Chairman, Steering Committee
The 51st SJVE Conference
It has been about a half century since VE has first introduced to our country. VE was applied in the purchasing/procurement sectors in the manufacturing industry, then it was spread to other business domains such as development and design, marketing, business planning, etc.
Recently, VE has been a focus of attention as a means of improving productivity among non-manufacturing sector, like food, logistics and distribution services in response to the initiative of "Work Style Reforms" by Japanese Government.
As application of new technologies like AI and IoT are rapidly emerging, VE should also need a breakthrough to fit to different business domains or subjects and think out of the box of its conventional style of application.
This is how this year's Conference Theme has been defined as " Explore a New Style of VE ".
We invite all VE professionals and practitioners around the world to share our views and insights on the new ways of VE application as well as its facets of application in a variety of business sectors and subjects.
We look forward to seeing you in Tokyo this fall!
Under the 
auspice

s of:

Japan Federation of Construction Contractors

The Japan Institute of Industrial Engineering

Japan TRIZ Society

Japan Creativity Society

Shanghai Value Engineering Society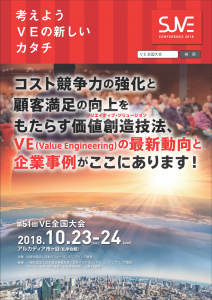 Program Guide available for download now!
Day 1 – October 23th 10:00- 17:00
 Opening Ceremony & award presentation
 Keynote speech
 Presentation of SJVE award winning company
 Special lecture
 Memorial lecture
 Networking party 17:15 – 18:30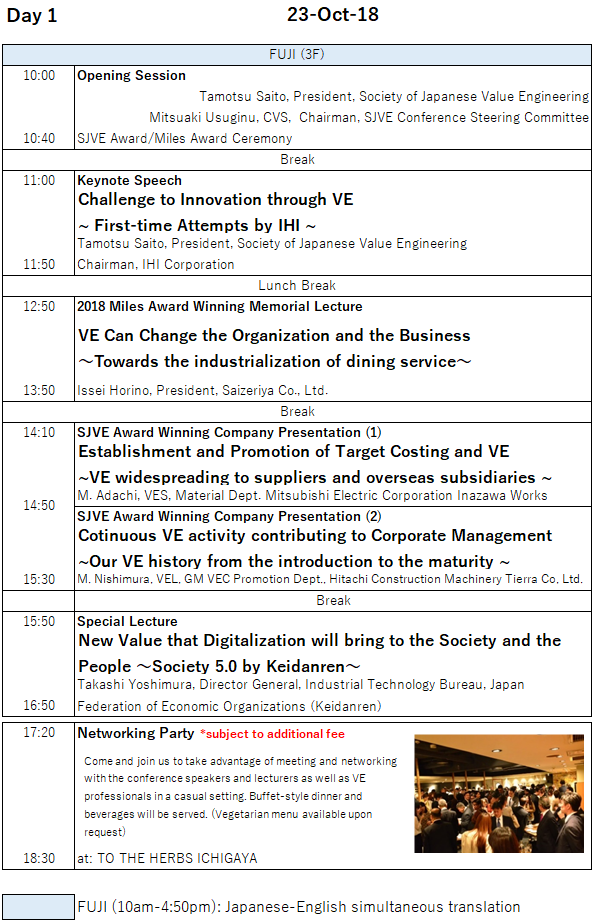 Day 2 – October 24th 10:00 – 17:00
 Technical paper presentation
 Case report presentation
 International presentation
 VE forum
 Special report
 Special session
LEGEND:
Track 1 – FUJI WEST, Track 2 – FUJI WEST (3rd Floor)
Track 3 – DAISETSU, Track 4 – HOTAKA (5th Floor)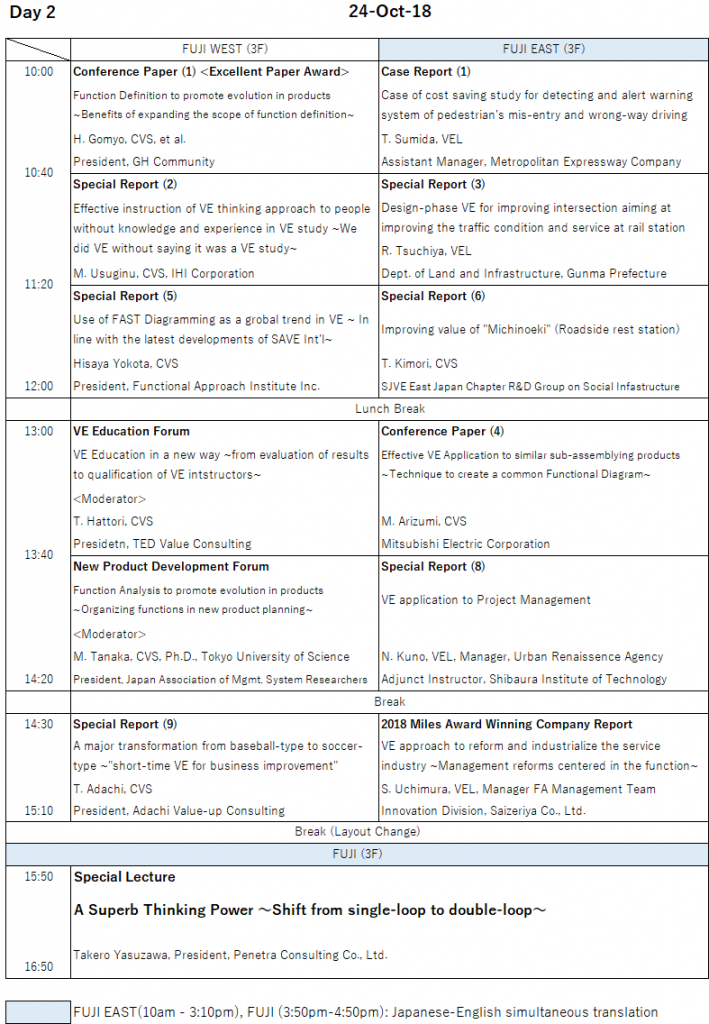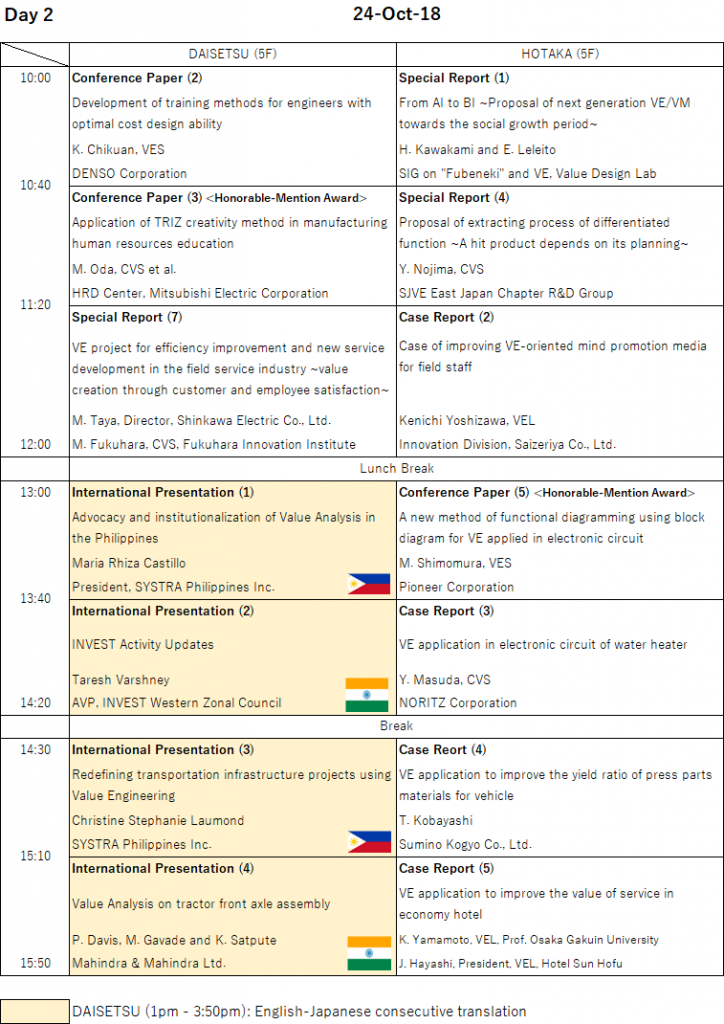 ■Keynote Speakers【Oct. 23】
Challenge to Innovation through VE
~First-time attempts by IHI~
Tamotsu Saito, President, SJVE
Chairman, IHI Corporation
Mr. Saito was born in 1952 in Yamagata Prefecture and graduated from The University of Tokyo in Engineering.

He joined Ishikawajima-Harima Heavy Industries Co., Ltd. in 1975. He served as Executive Officer and Vice President, President, Director, Managing Executive Officer and President of Aero-Engine & Space Operations, Executive Vice President, and assumed as President and CEO of IHI in April 2012.

In April 2016, he served as Chairman of the Board, CEO, General Manager of Monozukuri Systems Strategy Planning Headquarters and has been as Chairman of the Board since April 2017.

In June 2018, he assumed the post of the 6th President of Society of Japanese Value Engineering.
---
VE Can Change the Organization and the Business
~Towards the industrialization of dining service~
Issei Horino, President, Saizeriya Co., Ltd.
Mr. Horino was born in 1957 in Toyama Prefecture and was graduated from Kyoto University Graduate School of Agronomic Engineering in March 1981.

He joined Ajinomoto Co., Ltd. in April of the same year. He engaged in the procurement of carcinostatic drugs, improvement of production method for Amino-acid,  production of glutamic sodium, and production/improvement of Amino-acid for medical purpose.

He joined Saizeriya in April 2000. He became a member of the Board in November of the same year.

He oversaw the establishment of Kanagawa and Fukushima Factories. After having served as Director General of Products, Merchandising/Agriculture, The 3rd Product Department and Engineering, he assumed the role of the President in April 2009.
---
New Value that Digitalization will bring to the Society and the People
~Society 5.0 by Keidanren~
Takashi Yoshimura, Director General, Industrial Technology Bureau, Japan Federation of Economic Organizations (Keidanren)
Mr. Yoshimura was graduated from Hitotsubashi University Graduate School in 1997 and joined Keidanren Secretariat.

He engaged in the financial policy reforms at Economic Policy Bureau and development assistance policy and economic partnership agreement at International Cooperation Bureau, and assigned to Industrial Technology Bureau in 2008.

As Director of the Bureau since 2017, he has been responsible for science and engineering innovation policy such as Society 5.0, as well as intellectual property, venture business, information and telecommunication, space, oceanic and defense industries.

He has served in various capacities in the professional councils and study groups by the Ministry of Economy, Trade and Industry and Ministry of Education, Culture, Technology, Sports, Science and Technology. He also teaches at the University of Tokyo Graduate School of Policy Research as guest researcher.
---
■【Oct. 24】
A Superb Thinking Power
~Shift from single-loop to double-loop~

Takero Yasuzawa, President, Penetra Consulting Co., Ltd.
Mr. Yasuzawa was born in 1974 in Shiga Prefecture. He was graduated from Kyoto University in Engineering, and joined Kajima Corporation.

During his college, he was one of the top players of American Football where his team won the All-Japan University championship for twice. His team won the corporate football league champion and became the No.1 in Japan. He played at All-Japan championship games for 4 times in total.

Later, he mastered methodology in organizational reforms at an international consulting firm specialized in "execution assistance" where he worked with people from large-sized and long-lasting companies. He adopted his own experiences and know-how of organizational building in his American Football team, which made it evolve into "ever-challenging organization".

He established Penetra Consulting in 2012. He has been active as "Organizational Reform Specialist" having his client individuals and organizations break through barriers.
---
■Practical Case Study Reports representing VE in New Style【Oct. 24】
"Explore a New Style of VE" is the theme for this year's SJVE Conference. It will feature cases of VE application in new trends, business sectors or subjects.
Participants will get new insights from these case studies which accomplished breakthrough to new approach of VE which could be of some help to raise the awareness and invigorate VE activities within their organizations.
Dates
2016-10-23 ~ 10-24
Fee
 Early-bird Registration Fee

 (received before October 10th)


-> Regular Registration Fee
Registration type
General
Certified VEr.
Member
Student
Full registration
35,640 yen


-> 46,400 yen

30,240 yen


-> 41,040 yen

27,000 yen


-> 37,800 yen

5,400 yen


-> 10,800 yen

1 day registration
22,680 yen


-> 27,000 yen

19,440 yen


-> 23,760 yen

17,280 yen


-> 21,600 yen

3,200 yen


-> 6,480 yen

Networking party

4,320 yen


-> 7,560 yen

4,320 yen


-> 7,560 yen

4,320 yen


-> 7,560 yen

4,320 yen


-> 7,560 yen

Registration Process
After you send the registration form below, an automatic confirmation E-mail will be sent to your E-mail address. If you do not receive the email, there should be an error in the registration process so please notify SJVE office.
An E-mail to guide on how to pay your registration fee will be sent within 3 weeks after Step 1.
Either 1 month prior to the Conference date or 1 week after Step 1, an E-mail with a link to download your registration ticket will be sent. Participants are responsible for downloading the ticket, have it printed in advance, and bring it to the Conference registration desk on the day of your arrival.