WHAT IS VE?
Value Engineering (synonymous with the terms value management and value analysis) is a professionally applied,
function-oriented, systematic team approach used to analyze and improve value in a product, facility design,
system or service -a powerful methodology for solving problems and/or reducing costs while improving
performance/quality requirements. By enhancing value characteristics, Value Engineering increases customer
satisfaction and adds value to your investment. Value Engineering can be applied to any business or
economic sector, including industry, government, construction and service. Using Value Engineering
is a very successful long-term business strategy.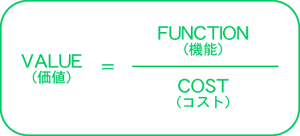 HOW VE IS NECESSARY
In these days management environment is kaleidoscopically changing. Not only the efficiency but also the continued innovation are essential for corporate management. It is not possible to meet today's highly-advanced customers' demands by just quantitatively producing low-priced merchandises.
Corporate efforts must be focused on the innovation doing away with conventionality rather than the betterment of actuality, always keeping in mind what should we do, which functions should be achieved to enhance the value of products, services, etc.
VE is the technique which is exactly for value improvement and is also a critical management technique for the leading companies of New Century.
VALUE METHODOLOGY
VE methodology includes:
User Attitude Surveys; Multi-disciplined Team Work; Function Analysis; Implementation; Financial Reporting; Life Cycle Cost; Human Behavior; Communication Techniques; and the Five-Step VE Job Plan:
Step 1: Information
Step 2: Creativity
Step 3: Evaluation
Step 4: Development
Step 5: Presentation
As the first step of VE, "Functions" of products or services which should be achieved are analyzed from a customer's standpoint, gathering a variety of information and ideas on the measures to accomplish such functions. Next step is to generate the ideas, sometime different ideas are combined or further-developed, then these ideas are evaluated to finally choose the best one(s). It is called Team Design, a series of processes to realize the measure which securely attain Customer's needing functions at a lowest Life Cycle Cost.
LIMITS OF VE APPLICATION
VE is so widely applied ranging over a variety of fields such as the cost reduction on purchasing, cost cutting of products overall, and also at product development stages. It is now applied not only in the products but also in assembling and machinery processes, manufacturing processes such as packing, transportation, distribution, etc.
VE can also be utilized not only in manufacturing industry but also in services and construction industries. In other words, anything that can produce cost is the subject of VE study.
VE ACHIEVEMENTS
VE can provide clients with comfort by its highly-value added products or services, and it can also contribute to the society for making good use of natural and industrial resources. Enterprises may enjoy and insure an adequate profit, smooth communication among people concerned, activation of organizations and creative corporate climates. People participated in a VE study will learn how to get along with other team members giving respect to each one's ideas, will gain creative thinking, achievement to a goal by systematic team approach and especially a target-oriented thinking method. These experiences are extremely valuable as they can practically be applied in any other social, official and private situations.